Nuru massage may be a term you've heard before and probably wondered what it was. This is a form of massage that originally came from Japan. Throughout the massage a unique seaweed-based massage gel is used that is extremely slippery, which the masseuse slathers all over her own naked body. Using her body she is able to provide a sexually stimulating and exciting massage. To find out where you can get a nuru massage in London, just keep reading . . .
FBSM Massage– The Most Erotic Nuru Massage in London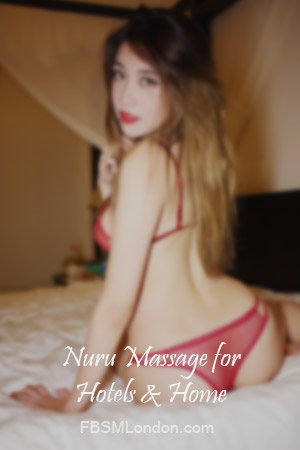 You can have the most exciting and authentic nuru massage right in London. There is no need to fly off to Japan. The truth is, you don't even need to leave the comforts of home or your hotel room since FBSM Massage is outcall massage and our services are totally mobile. Your masseuse can easily come to you and bring everything she needs to give you a mind altering erotic nuru massage. FBSM Massage is located in central London but often travels across the city and throughout the surrounding counties of Essex, Surrey and Kent.
If you're within Zone 1 and 2, we can arrive within the hour. We are in business seven days a week for your convenience. On the other hand, if you wish to have your massage at our facility, we can schedule you to come to our central London location. You can discreetly reach us by tube and we can ensure your complete privacy and comfort.
What Can I Expect When I Have a Nuru Massage at FBSM?
There a plenty of Asian massage parlours in London claims that they offer nuru massage treatment, however a real nuru massage require skills, experiences, genuine nuru gel as well as sensual passionate…I'm sure you can only get the authentic nuru massage from the best massage parlour in London.
So what would be your experience with our masseuses?
Your erotic treatment starts the minute your beautiful masseuse knocks on your door, dressed to excite. She will create the perfect ambiance in the room using music and candles, and perhaps turn the heat up a little. Because nuru massages are "wet," the temperature in the room is more comfortable if it is above 26 degrees. She will place a waterproof protective sheet on the bed so that the nuru gel does not get on your sheets.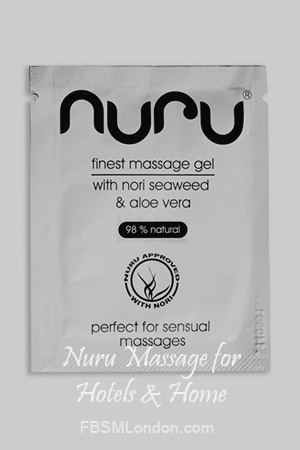 Next, you will take a warm bath or shower with your gorgeous naked masseuse so that you can totally relax. The nuru gel works best on moist skin so this is why you start out bathing or showering together. Your masseuse will apply the slippery gel all over her gorgeous body before applying it all over yours.
Throughout your entire nuru massage, your masseuse's entire body will be used to stimulate all your erotic senses. She will glide and slide up and down, rock and ride to make maximum body-to-body contact, using her breasts, thighs and buttocks. In the beginning she will move slowly yet sensually, paying attention to your erogenous zones, your inner thighs and chest area, letting your sexual energy and arousal build.
How long this goes on is up to you and how much time you've scheduled to spend with her. Our sessions start at one hour and can go as long as three hours. This gives you ample time to relax and enjoy this blissful erotic experience.
When you've become completely relaxed and aroused, she will start stimulating your genital area, which includes your penis, both testicles and your perineum, which is the highly sensitive skin area between your testicles and anus, where the most arousing nerve endings are located.
She will keep stroking you up and down, varying her pressure and speed for the maximum excitement until you cannot hold it in any longer and you finally succumb to the most erotic full body climax you have ever experienced in your life.